Description
Superior Quality Pond Skimmer Made in the U.S.A.
Specifications:
Model: # 40130

Max Flow Rate: 6,000 G.PH.

Dimensions: 23" L x 23" W x 20" H

Max Pond Size: 3,000 Gallons

Inlet Size: 2"

Weir Opening: 8.5" x 8.5"

Weight: 30 lbs.
Included with your Pondineer DuraSkim 3000:
2" Spin Weld Plumbing Port

Skimmer Net in Aluminium Frame

Filter Support Rack

1" Thick Green Filter Pad

Stainless Steel Hardware

Silicone Adhesive

2" Male Adapter

Speed Strip Faceplate

Landscape Lid
Additional Information:
Our Pondineer DuraSkim 3000 was designed by JT Randolph, the founder of Touch of Paradise Designs, Inc. and Pondineer, after he used all the other brands out there.
After doing countless installs, JT knew what worked, and what didn't...so he went back to the drawing board and created the best Pond Skimmer on the market...The Pondineer DuraSkim 3000.
Your purchase of the Pondineer DuraSkim 3000 pond skimmer insures your water feature will be simple to install and your skimmer will last without failure, or your money back...we are so confident in our product that we offer a lifetime warranty against manufacturer defect for as long as you own your water feature!
We spin weld the plumbing ports so there is not leakage, ever, due to port failure. Molded in stainless steel inserts aid in speed of install and insure there is no chance of leakage there, either.
The construction is from Rotational Molded Polyethylene for superior strength and durability so it is guaranteed to withstand the weight and pressure of being below earth and rock. Most other brands of skimmers are injection molded, and are simply not as durable as Pondineer.

Every piece is UV protection coated making them extremely sun resistant.
The Horseshoe shape maximizes structural integrity, and the streamlined features make installation quick and easy, which saves time and money for landscape professionals. They are also easy to access for regular cleaning of your skimmer net and filter media.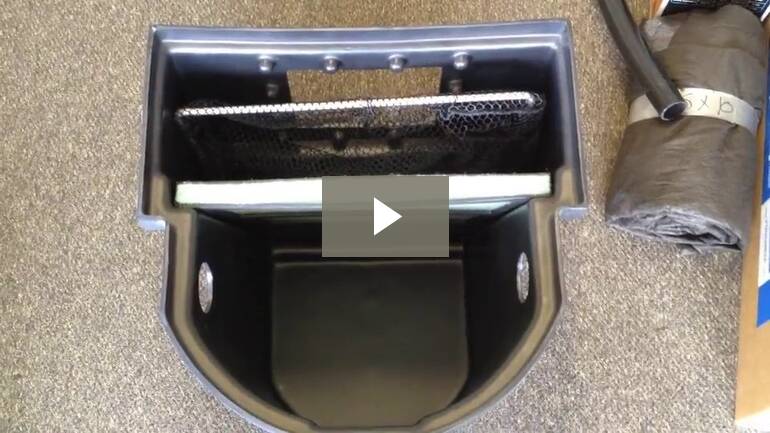 View All
Close
Warranty Information
Pondineer guarantees this product against manufacturer defect for as long as you own your water feature!
View All
Close